Countdown Improv, Tampa Fringe Festivals Return to Ybor City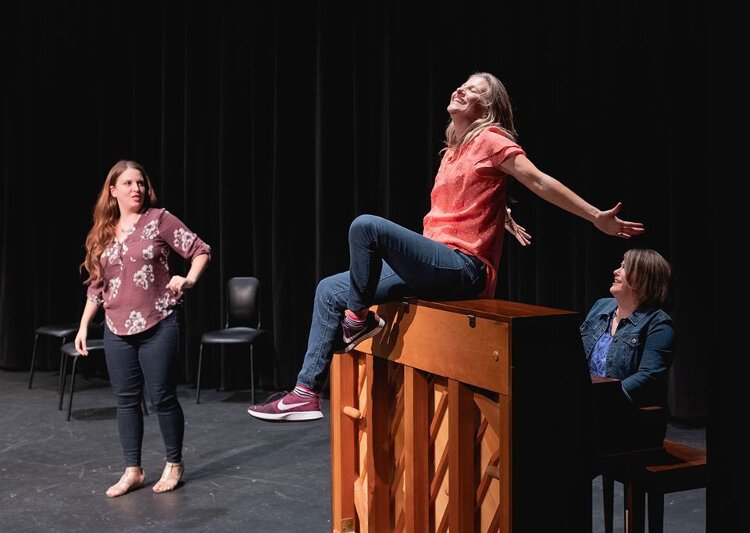 A Brooklyn comedy duo named after an infamous spin-off film "American Idol" is launching an improv festival in Ybor City.
The story of the Countdown Improv Festival sounds bizarre enough to serve as the basis for an improv routine. But it has worked very well so far. The improv extravaganza returns to Tampa and the Hillsborough Community College Ybor Performing Arts Building for its sixth year August 11-13, featuring 67 acts from Tampa Bay, around Florida, across the United States and even in some parts of Canada.
How did it happen? In a video on the festival's website, co-founder Justin Peters, one half of the improv duo 'From Justin to Kelly', jokes that they were looking for a place where chickens roam free and cars drive. in the streets listening to music until morning. In an interview, festival co-founder Kelly Buttermore, the other half of "From Justin to Kelly," expands on her comedic partner's explanation.
"The original intent, what we thought the festival would be back in 2017, was a pop-up festival that would travel year after year," Buttermore said. "But we loved being in Ybor so much that we decided to put down roots and build here."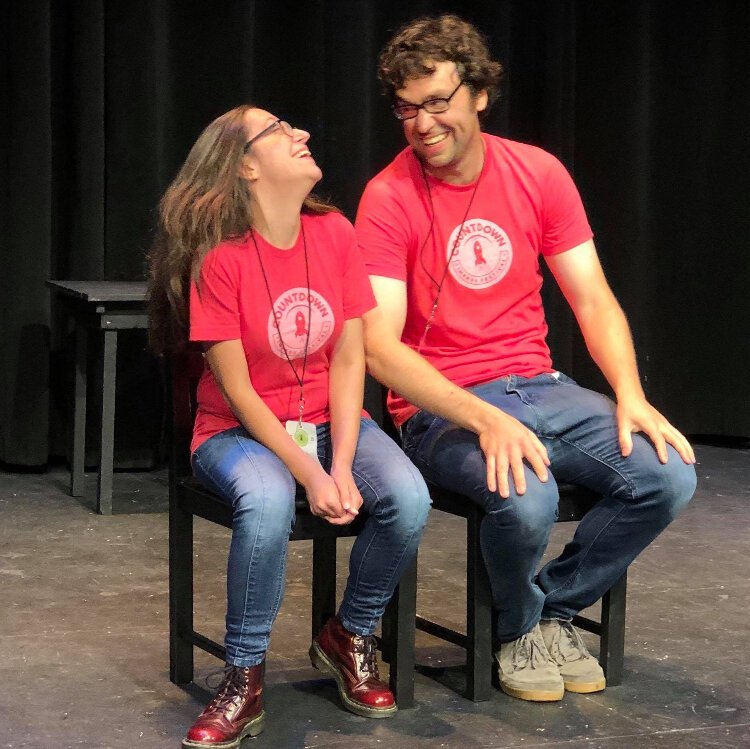 Justin Peters and Kelly Buttermore, comedic partners of Brooklyn-based improv duo "From Justin to Kelly," decided to start their own improv festival six years ago.
Countdown Improv sets itself apart from other festivals by focusing on solo, duo and small group trio improvisational acts.
"When you get groups of one, two or three, there's nowhere to hide," Buttermore says. "It just has to work. It lends itself to fun, innovative and boundary-pushing work, because you're right up there. It's a little riskier and a little bolder, but it also gives more room for creativity and innovation within the piece.
A sample of the in-store acts includes "Solovela", a one-man improvised telenovela in which a female, improv comedian Diane Jorge of Plantation, plays all the characters. There's "I Am the Show," where the audience chooses a movie to play without sound, and Chicago-based improviser Chris George composes the dialogue, sound effects and music. In "Cuzzins," a duo of real-life cousins ​​David H. Hepburn and Alex Taylor from Miami offer comedic group therapy via questions from the audience and dramatizations of potential solutions.
With the large lineup, performances will take place simultaneously on three stages at the HCC Ybor Performing Arts Building.
There are also workshops to learn and hone improvisation skills, including a free workshop on Saturday August 13 for beginners.
For more information, visit Countdown Improv Festival.
Tampa International Fringe Festival
Countdown Improv isn't the only fun and irreverent festival hitting Ybor this month. The sixth annual Tampa International Fringe is underway and runs through August 7 at the HCC Ybor Performing Arts Building.
The Tampa event and other like-minded gatherings around the world are inspired by a group of Scottish artists who, in 1947, performed on the "fringes" of the city-sponsored festival as an act of rebellion against the event. The eclectic lineup includes cabaret, burlesque, uncomfortable comedians who tell stories instead of jokes, a clown/magician from Brazil, theater, opera, children's events and more.
For more information, visit Tampa Fringe.
The Carrollwood Cultural Center publishes its 2022-23 calendar
The Carrollwood Cultural Center has released its 2022-23 theater schedule. Titled "A Season of Classics," the upcoming season begins with "Miracle on 34th Street: A Live Musical Radio Play," which runs from December 2-11. The holiday-themed show is adapted from the 1947 show Lux Radio by Lance Arthur Smith and features original songs and arrangements by composer/arranger Jon Lorenz.
The diverse selection of season classics continues with Tennessee Williams' "The Glass Menagerie" (February 17-26, 2023); and the musical "Gypsy" (April 28-May 7, 2023), with music by Jule Stone and lyrics by Stephen Sondheim. The season ends with "Monty Python's Spamalot," a musical based on the movie classic "Monty Python and the Holy Grail." The outrageous retelling of the King Arthur legend features book and lyrics by Monthy Python member Eric Idle, and music by Idle and British bandleader and composer John Du Prez.
For more information on the 2022-23 season and ticket sales, go to Carrollwood Center.
Stepping Stones Community Mural in Port Tampa Bay
An environmental-themed mural by students from Tampa's Sulfur Springs community is on display at Cruise Terminal Six in Port Tampa Bay. Students in the Community Stepping Stones program made "One Waterway One Tampa Bay" from recyclable materials collected at beach cleanup events and community cleanups in Sulfur Springs. The mural was originally created nine years ago, restored this year by students from a Community Stepping Stones art camp and hung on World Oceans Day.
"Teaching environmental stewardship through the arts and providing our students with first-hand interactions with nature is an important part of Community Stepping Stones programming. We are proud to exhibit at the port," Georgia Vahue, executive director of Community Stepping Stones, said in a press release.
For more information about the organization's programs for Sulfur Springs youth, go to Community stepping stones.
"MULTIPLE: Twins Seven-Seven" at the Museum of Fine Arts. Saint PETERSBOURG
The opening night of the Saint Petersburg Museum of Fine Arts' "MULTIPLE Twins Seven-Seven" exhibition of the late Nigerian printmaker, painter and sculptor Prince Twins Seven-Seven is August 13.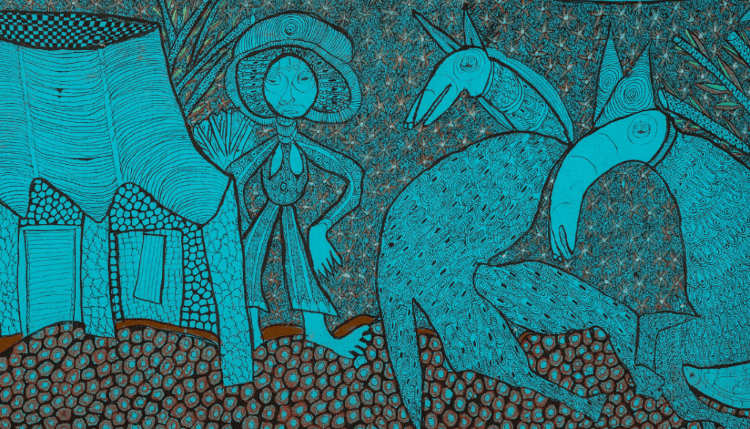 The opening night of an exhibition by the late Nigerian artist Prince Twins Seven-Seven will take place on August 13 at the St. Petersburg Museum of Fine Arts.
Drawn largely from the museum's own collection, the exhibit "mixes abstract images of the physical world with evocations of the spirit world," according to a description on the MFA's website. The exhibit includes early career prints as well as textile paintings and a drawing from the 1970s that are part of the MFA's collection. Prince Twins Seven-Seven's work blends traditional Yorùbá art with his own "sense of colors, patterns and evocations of spirits and dreams," reads the description of the MFA exhibit.
For more information, visit MFA St. Petersburg Prince Twins Seven-Seven.
Rodin exhibition at the Polk Museum of Art
The works of legendary 19th-century sculptor Auguste Rodin are on display at the Polk Museum of Art at Florida Southern College in Lakeland in the "Rodin: Contemplation and Dreams" exhibit. The exhibition features more than 40 bronze sculptures by Rodin, making it the largest sculpture installation in the history of the museum. The Rodin exhibition is visible until Sunday October 30 and admission is free.
For more information, visit "Rodin: Contemplation and Dreams."
The Gobioff Foundation Announces Microgrants
The Gobioff Foundation has announced micro-grants for the upcoming projects of four local artists. Amanda Sieradzki's "Chorus Novae" at Plant Park on the University of Tampa campus "will provide local choreographers with a platform to showcase their dance works outdoors in a non-traditional venue to celebrate National Choreography Day. the dance," according to a press release.
"Fading Florida" by Susan Henley Fredricks at the Firehouse Cultural Center in Ruskin will feature portraits of Florida through a series of photopolymer intaglio prints.
Sarah Walston's "Ghost in the Black Jacket" at All That Dance in Tampa is a modern ballet that will highlight a "shifting sense of personal identity and sanity."
"100 Women Artists in Art History by 100 Women Artists of Florida" by Alicia Campos calls for women artists in Florida to be part of an art exhibit promoting the work of talented but talented female artists. often overlooked around the world.
The current Gobioff Foundation grant application cycle ends on September 1 for projects that will take place between November 1, 2022 and April 30, 2023.
For more information, go to the Gobioff Foundation micro-grants
"An artistic house" at the Atelier de SoSi
St. Petersburg art studio Atelier de SoSi is launching the new show "An Artful Home" in its gallery space on August 12. The gallery will transform into a residential living space to show how table settings, glassware, furniture, lighting, textiles and other artwork in the home can be functional and beautiful.
For more information, visit "An artistic house."