Exploring Indigenous Identity and Resistance – News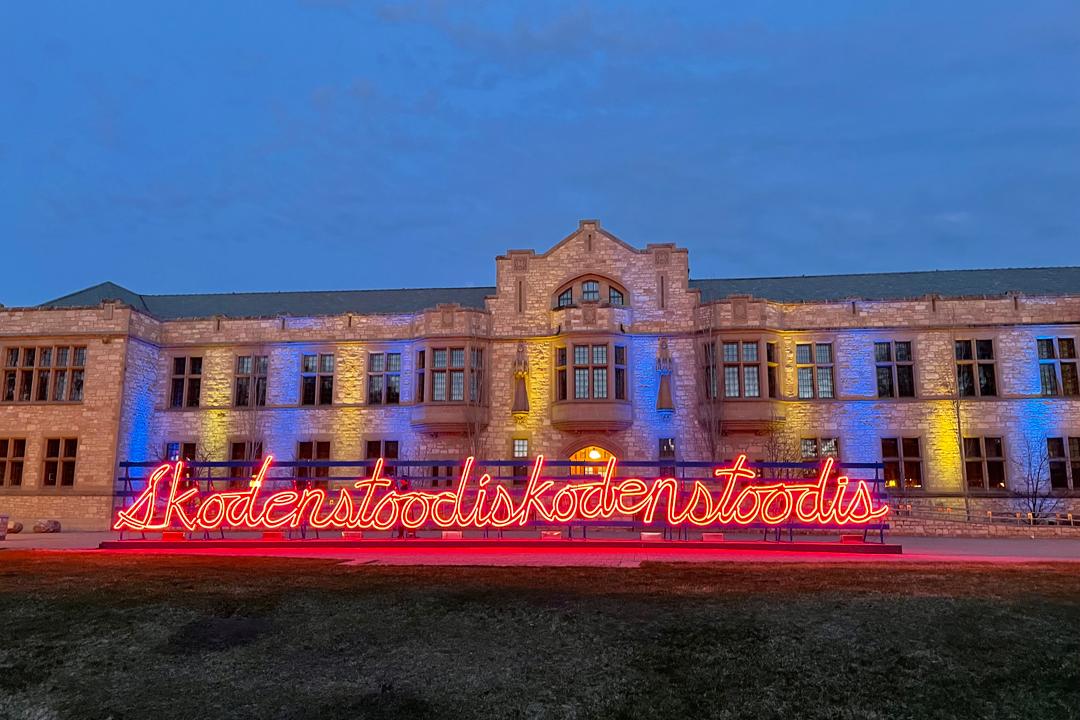 Taylor, who has known Dion for almost 20 years, is also the curator of skodenstoodis. She saw Dion's artistic career continue "to achieve incredible national and international success", but believes skodenstoodis will always be "an important hometown exhibit" for him.
"He is an impressive artist, but also a community advocate, providing leadership in the arts for Saskatchewan, so we are truly honored to host his major solo exhibition at the College Art Galleries in USask," she said.
During a recent interview a few days before the opening of the exhibition, Dion sat down in front of one of his works, titled red braids, and reflected on the multiple meanings and contradictions inherent in his work. He created red braids after the death of Colten Boushie, an Indigenous youth shot and killed on a Saskatchewan farm in 2016.
Dion's painting depicts the back of a person's head, with flowing, intricate braids on either side. In creating it, he thought about the violence involved in shooting someone and the vulnerability of the back of a person's skull (he also noted that the individual in the painting represents the fluidity of gender rather than the dichotomies of masculinity or femininity).
"Initially I was painting the back of the head and thinking about violence against indigenous people with bullets," he said. "I guess I was asking the question, 'How could anybody feel comfortable, or how could that happen, just to shoot somebody, to shoot a Native?'
With red braids, Dion also reflected on the importance of braided hair to Indigenous culture and the strength of celebrating traditional ways of being and doing. For Indigenous people, wearing braids can be both an act of self-actualization and an act of resistance, he said, noting that Indigenous children were forced to wear their hair short in residential schools. For Indigenous peoples today, braiding their hair can be a way to fight back against these colonial policies and a way to fully represent themselves, Dion said.
"By braiding their hair, sometimes people just want to become who they are."
Dion also considered the contradictions inherent in the braids themselves. When braids are too tight against the scalp, for example, they cause pain and discomfort. Yet when someone braids another person's hair, it's often done as an act of love and received as an act of trust.
"Someone has to stand or sit behind you and braid your hair, so maybe that's also a little gift you would give someone every day," he said.
On the floor of red braids, in College Art Gallery 1, some of Dion's works take on an uncomfortable and contradictory beauty. For example, two pieces depicting prehistoric-looking fish underscore Dion's respect for the natural world; yet, upon closer inspection, viewers see that his sea creatures are carefully crafted from discarded computer circuit boards. The juxtaposition of nature with human-made e-waste evokes comments about the impact that technological production and copper mining have on the environment.
Taylor noted that in other works of art in the same space, circuit boards are "assembled to incorporate Indigenous designs that recognize the importance of traditional craftsmanship and the skills found in these practices."
"This body of work also interrogates the increasing rate of resource extraction needed to produce these technologies and the environmental implications," she said.
Outside the galleries is the exhibit's largest artwork, the Neon Text Sculpture skodenstoodis. Again, Dion portrays contradiction in his work; At first glance, the bright cursive letters may seem playful and fun, perhaps conjuring up images of youthful fun in arcades and carnivals. But Dion deliberately chose the cursive text of the sculpture to emphasize another aspect of youth: class conformism. In residential schools, Aboriginal children were forced to turn away from their language and read and write in English. Accordingly, the sculpture is mounted on long blue beams, representing the lined notebooks found in classrooms.
Taylor said the sculpture "works as a call to action, both elevating and challenging the institution's role as a space for teaching and learning."
"The artwork considers themes surrounding Indigenous language and learning, with a specific relationship to Wally's personal and lived experience with assimilation into colonial education systems," she said. "Skodenstoodis is a combination of two native slang roots: 'skoden' meaning 'let's go then' and 'staldis' meaning 'let's do this'. The scale of the neon is meant to reflect the standing human scale as the viewer approaches it; at six feet tall and 58 feet wide, it holds significant visual space that a passer-by won't miss.
Despite the serious themes of skodenstoodis, Dion said there was a bit of humor in the sculpture, something he thinks Indigenous viewers will appreciate. "Skoden" and "stondis" were part of viral online meme culture, and memes can make people laugh while serving as a powerful means of political resistance. Dion said that by using "skoden" instead of "let's go then" and "standis" instead of "let's do this", Indigenous people are showing the world that assimilation doesn't work.
"I think that's how Indigenous peoples could and could frustrate the system," he said. "They know exactly what you're asking for and what you want to do, and we just do it a little bit differently."
By skodenstoodis, Dion also wants to make a joke about the tendency to put long traditional Aboriginal names near trails and other landmarks. He chose a long word for the carving – "skodenstoodiskodenstoodis" – which he thinks some people may assume to be "just another native word for this area or the tree or the grass".
"It's just a joke," Dion said. "But it's like a puzzle, because when the Aboriginal people see it, they know instantly what it is. they can see the words in there. It's just a tongue-in-cheek way to potentially bring other people and other cultures into Native humor, which I think is a really smart way to bring people together instead of pulling them apart.