KC School: where learners unleash their creativity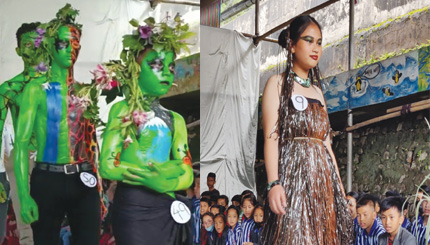 SHILLONG, July 10: KC (Kiddies Corner) Secondary School ended its school week on Saturday with a program called "La Mode" – a fashion show where children presented five sets of clothes, jewellery, hairstyles, etc., all made from waste such as newspapers, plastics and the like. The headgear and jewelry were aesthetically appealing and left the audience gasping.
The last lap was the most unique. It was body art where faces and bodies were painted with different themes and models paraded down the ramp. A student had the image of a crocodile painted on his body and face; a second student had the human digestive system while another had the circulatory system. All these elements were painted by other students.
Girl models fashioned themselves dresses and stylish outfits out of newspaper, discarded plastic bags and packets of crisps and tapes from old-time audio cassettes that are now nearly extinct.
The judge for the event was Lee Middleton, well-known make-up artist from Shillong and Iba Mallai owner of a boutique that stocks Ryndia's finest stoles and designer clothes made from Eri silk, a yarn woven from the cocoon of the Eri worm, a specialty of the weavers of Ri-Bhoi. It is the effort of people like Daniel Syiem and Iba Mallai and the impetus of the sericulture department that has now given a boost to the weaving industry which feeds quite a few mouths in Ri-Bhoi. The third judge was Mary Khyriem who previously won the Sunsilk Mega Miss NorthEast in 2017 and also represented Meghalaya in the Femina Miss India pageant in 2018.
The highlight of the show was the exuberance displayed by the junior students. They were seated in public, but whenever the music played when the models walked up the ramp, they would spin to the music and unless they got up to dance, they did all the right moves. All this without being aware of who is watching them. It's so different from the days when students were told to sit still and not talk to each other while watching a show. "It's a joy to watch these kids," said one parent.
That's what sets KC aside. From participating in socially useful productive work like cleaning rivers, planting trees in collaboration with other peoples' movements led by their director Brian Wahlang, they are also engaged in several extra-curricular activities.
Speaking to this correspondent, Brian says: "I want students to have fun while learning. Now our school makes them do research where they will have to read and do practical work. It's much better than just knowing the book. Socially Useful Productive Work (SUPW) must be real field work.
After this tiring preparation for the school week, KC students and teachers are now enjoying their summer vacation.