Musician Georgia Mooney can't get enough of Waverley Cemetery and a 'Delightfully Daggy' bowling club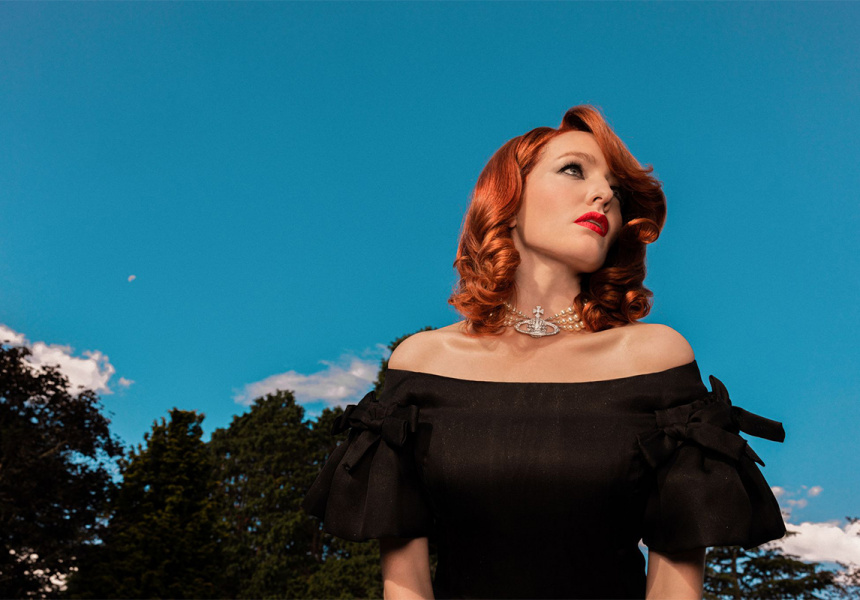 Tell us a bit about yourself.
I live in Lewisham in a small art deco apartment which I have heavily decorated in a style that could be described as 'maximalist-grandmother-cosmic-boudoir-chic'. Think floral wallpaper, doilies, velvet curtains, beautiful lighting, and a surprising amount of novelty. star wars paraphernalia.
What do you like in Sydney?
It really is one of the most beautiful cities, and I think it has a lot to do with being close to water and green spaces. There is an abundant supply of parks, waterways and natural wonders. I sincerely hope that we will only develop and adopt these features further.
Do you have a favorite restaurant in Sydney?
I made a post-lockdown resolution to try as many of Sydney's glorious restaurants as possible – admittedly an indulgent and not exactly life-saving mission, but I spend a lot of time in and around Newtown and really enjoy people watching an outdoor table on Australia Street at the Continental Deli Bar Bistro. Everything on the menu is delicious, but it's obviously important to start with a selection of cheeses and small fish – then head down the road for a cocktail and a Montenegro from the world's finest bartender, Dale, at Earl's Juke Joint.
Where do you go for breakfast?
My local is Brothers Ben in Petersham. The food is delicious in a way if more people knew there would be queues around the corner, and the staff know my name so I'm forever theirs. I'm one of those people who goes away mid-week and brings a laptop so I can work from a quiet corner table and never stop ordering out of guilt. But obviously, the western interior is brunch heaven. Favorites include Two Chaps, Kurumac, West Juliett, Cornersmith, Any Or, One Another and many more.
It's your birthday, how are you spending it?
Well, that would probably start with a slumber party. Then maybe a long, lazy champagne picnic in the botanical garden with a group of friends. The pandemic has reinforced my love of picnics and prepared a lovely spread of delicious homemade morsels for friends. Then, I always wanted to throw a big party at Clovelly Bowling Club. I love how it's this picture-perfect mid-century building in the most ridiculously beautiful beachfront location that remains relatively untouched, uncrowded, and delightfully daggy. Never change, Clovelly Bowling Club! The back room has a 180 degree view of the ocean and a nice little stage. I would fill it with sparkly decorations, hire an amazing band, and dance until dawn with all my friends and family. In this fantasy, Cafe Paci takes care of the catering, as if they don't have a sensational restaurant to run.
Favorite shops?
Shopping for vintage clothes and antiques is my happy place. Mitchell Road Antique & Design Center is a wonderland I could spend all day in. I love Dolly Up Vintage on Cleveland Street for [owner] Erin [​​Paige Stevenson]exquisite clothing selection curated by. Twisting Vintage in Mittagong is simply superb. Other nourishing treats include picking up an armful of vinyl records at Red Eye Records, gazing longingly at antique jewelry in the Strand Arcade, devouring an orgasmic cream pie from Sweet Belem, selecting many more chocolates at One More Chocolate , picking out beautiful writing paper at Pentimento, browsing the shelves and inhaling the smell of old books at Elizabeth and coming home with a bottle of wine I've never tasted from P&V.
When you want to impress someone, where do you take them?
To be honest, it will never be the beach. It's extremely possible that I'm the only person in Sydney who avoids it like the plague (sorry I said "plague"). I admit Sydney's coastline is extremely beautiful, so we can at least take a stroll through Waverley Cemetery – "Here's a fine selection of our dead!" In truth, I would love the opportunity to do someone a week-long Sydney itinerary. I'm trying to convince a friend to move in here. We're having cocktails at the Golden Age followed by dinner at the Poly. Surely that's not a bad start? Then I will suggest the cemetery…
What is one of the most underrated places in town?
Have you seen Waverley Cemetery?
What makes Sydney a better place?
The best thing about any city is its arts scene. Shout out to my favorite places to see live music: Sydney Opera House (who?), State Theatre, City Recital Hall, Phoenix Central Park, Enmore Theatre, Factory Theatre, Oxford Art Factory, The Great Club, Petersham Bowling Club, Mary's Underground, the Lansdowne, Red Rattler, Carriageworks, Golden Age and more. I also won't stop mourning the now closed Giant Dwarf Theater and Newtown Social Club.
Is there a must-see Sydney song?
No matter how many times I see it, I'm still completely captivated by the sight of Sydney through the plane's left side window when you come in to land. So I think for me it must be Sydney from a 747 by the great Paul Kelly.
Georgia Mooney is currently touring with her Supergroup, including Tim Minchin, Hannah Joy (Middle Kids) and Ziggy Ramo. There are two dates in Sydney and tickets are on sale now.
georgiamooney.com
@georgiamooney
'My Sydney' is a regular column that uncovers the places and spaces that captivate and attract well-known Sydney residents.