Northshire property sales maestro Burgess dies aged 62 |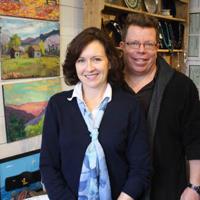 DORSET — Kind, decent and gentle are three of the words repeatedly used to describe Bob Burgess, who died earlier this week after suffering a sudden medical event.
Several friends and an obituary reported that he suffered a brain aneurysm on January 16; friends said he was home when he was struck and was airlifted to Albany Medical Center in New York.
Burgess, 62, from East Dorset, was well known throughout the region by legions of bargain hunters and antique collectors. Along with his wife, Vicki, Burgess ran Manchester's Burgess Estate Sales, regularly holding sales across the region, offering the contents of entire homes for sale to families who were downsizing, moving or following a death.
Before that, he sold antiques and more from a store on Main Street in Manchester.
The items he sold fill rooms in homes all over Northshire and far beyond.
Melissa Levis, innkeeper at the family-run Wilburton Inn in Manchester, said Burgess was her "partner and friend" in redecorating the Wilburton.
"Even if I didn't have a room in mind for an 18th-century gilt mirror or a carved mahogany king-size bed, he would say, 'Melissa, take it. It belongs to the Wilburton," Levis said, adding that finding a home for heirlooms brought comfort to many on an otherwise sad occasion.
"There isn't a room or a home at The Wilburton that hasn't been transformed thanks to the estate sales, friendship and love of Bob and Vickie Burgess. He will be sorely missed."
But the Bourgeois didn't just furnish 124-year-old mansions; many other homes and businesses have a piece or more of a Burgess estate sale.
"The majority of our house is made up of stuff bought from him," said Sara Crispe of Danby, whose family was close to Burgess. "He knew all of our kids and always asked how everyone was doing and followed up with them. He was such an exceptional person. »
She said Burgess treated everyone well.
"Bob was so kind, caring, engaging and helpful," Crispe said. "He made everyone feel like he was his favorite customer."
Crispe said when her son, Netanel, a 2021 Burr and Burton Academy graduate, was accepted to Yale, Burgess was one of the first people she spoke to.
"Bob was so supportive and encouraging of his love for history and antiques," Sara Crispe said. "They had a really special connection."
A connection that Netanel now cherishes.
"[When I was] Growing up, Bob acted as a mentor and friend, spending hours talking with me in his shop and at estate sales, telling personal stories and sharing his vast knowledge of history," said Netanel Crispe. "Through his generosity, he cultivated my own passion for history and enthusiasm for collecting antiques."
It seems like everyone started out as a customer, but quickly became friends.
Jamie Dufour, owner of Dufour Design, counted Burgess among his friends after logging on to antiques.
"He always came to me because I had knowledge about things he didn't know," Dufour said. "We just became friends."
Another person whose working relationship turned into a friendship was Mary Jo Gourd, who owns an interior design business in Manchester, and who said she had known Burgess since their children went to school together.
"We became close through his consignment store, which they closed to start doing real estate sales," Gourd said. "He always had something positive to say, was always on the lookout for products for my business and [was] always ask about my boys. He leaves a great void in our community.
The hole became evident in the days after his death, as Facebook lit up with people lamenting the loss of the community.
Messages of sadness poured in from the area.
"If there is a paradise, this is where it is," said Dufour. "He was the most genuine, sweetest man. He literally cared about everyone.
Among many other roles, Burgess was a member of the Lions Club, church leader at Zion Episcopal Church, and Boy Scout leader.
"You know when someone warms up a room just by walking in? Someone that feels good to be around?" Dufour said. "That was Bob."
Friends and family will celebrate his life this summer with music, food and lots of laughter, according to his obituary.
Details will be announced and all are invited.