Old Ghosts Odditorium in Fort Lauderdale sells unique antiques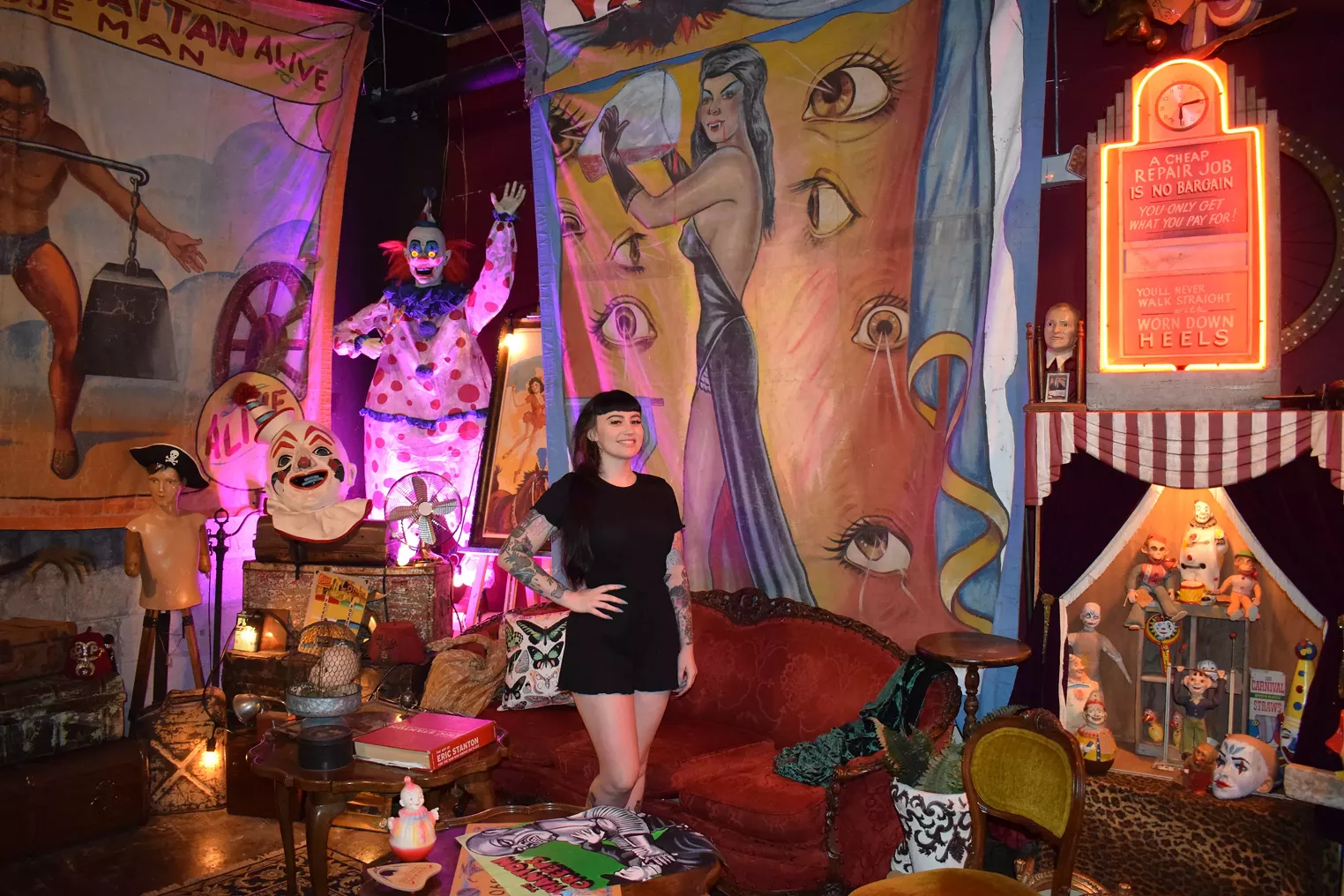 No matter where you stand on the showroom floor, there's a good chance a doll or mannequin is looking at you. Fortunately, unlike movies, they don't slide across the floor when your back is turned. But the sheer number of these toys on display guarantees that you will walk in the line of sight of at least a pair of glass eyes.
Similar to clowns and sharks, an aged doll has an unsettling connotation attached to it.
"The movies certainly fueled that," confirms Brittany Nicole, co-owner and operator of Old Ghosts Odditorium. "You think back to the 1930s, and you look at one of those dolls, it was a brand new baby doll that brought so much joy to a little kid somewhere. It was the only toy they had that theirs. parents could afford to buy them. "
It's this level of empathy for objects that permeates Old Ghosts, found just off I-595 in Fort Lauderdale. The store houses a collection of ancient curiosities, peculiar artefacts from a strange avenue of world history: taxidermy animals, papier-mâché clown heads, carnival banners.
All of the items on display at Old Ghosts come from the personal collection of Nicole and her partner Jackson Valiente, which took 20 years to come together. The duo met after Nicole became a regular customer of Kreepy Tiki Tattoos and the neighboring Kreepy Tiki Bar & Lounge. The two hit it off and Valiente offered her a job at the tattoo parlor.
"I took care of all the boring stuff that a lot of artists didn't want to bother with," says Nicole. "We kind of agreed on a lot of things and liked a lot of the same things, and it grew from there."
After the bar closed, they had to figure out what to do with the space. The first idea, a museum, lasted until it reached a point where visitors couldn't tell where the museum ended and the gift shop started.

"A lot of people would come and ask us if there was stuff for sale and if they could buy it, and at first it was like 'No, not really' because it was our stuff," says Nicole. "But that's how the idea for the store was born. A lot of people showed interest in our taste."
The Old Ghosts collection is assembled from property cleanings, dumpster dives, and network connections built from years of working in the industry. Whatever the origin of the object, Old Ghosts has a philosophy on the unique relationship between human and object.
"Whether it's an old pillow or an old doll or an old mirror or your iPhone, everyone has this ability to have that emotional connection with something that isn't alive," says Nicole.
It should be noted that some of the Old Ghosts items actually lived in an era, most notably the Taxidermy Macaw perched at the entrance to the store.

A few years ago, when Kreepy Tiki Bar & Lounge was still in business, the duo had a friend named Jack who was in Hawaii. Jack, an importer / exporter of artwork, had stopped by another tiki bar that was closing when he came across the stuffed bird.

"In the ancient world, these are very difficult to find, and if you find them, they are usually very expensive," says Nicole. "He wanted to buy it, and the guy told him no – that it was a family heirloom, that it was his great-great-grandfather's pet bird."
As the story goes, the bar owner's great-great-grandfather visited the tiki bar every day, taking his pet macaw with him. The creature outlived its master before going extinct on its own in the 1940s, after which the bar owner's grandfather had the bird taxidermized.
Fast forward to seven years ago, and Jack tries to get his hands on this bird for Valiente. The family were hesitant at first but eventually agreed, but with a stipulation.
"They didn't even want him to buy it," says Nicole. "They were going to give it to him as long as he was going to another tiki bar. And the guy was like, 'Yeah, it's going to go to the Kreepy Tiki in Fort Lauderdale.'"
To keep the bird safe from accidents, Kreepy Tiki staff placed it on the highest shelf in the bar where no one could reach it.
But there was something about the bird.
"The bartender was here cleaning up and she starts calling my partner, panicked that the bird fell and lands standingNicole remembers. "She said," Something's going on with this bird. I won't go inside. '"
Management shrugged. Then the bird fell the next night, landing on its feet again. Same thing the night after, and the night after, and the night after, and the night after. Every night he landed on his feet.
"We were like, 'He's going to crack eventually,'" says Nicole. "We ended up lowering it lower to actually be on the surface of the bar, and nothing ever happened again."
The running joke became that this bird was upset that it had been exiled to the top shelf.
While many of the Old Ghost catalog items were a nightmare to acquire, there is a certain pleasure in meeting customers who remind them of why they went into the business to begin with.
"It's cool to meet other collectors," says Nicole. "Because deep down that's what we really are: collectors who got out of hand and had to start selling stuff."
Odditorium of old ghosts. 2608 S. Federal Hwy., Fort Lauderdale; 954-224-7419.