"Runner": criticism of Karlovy Vary | Comments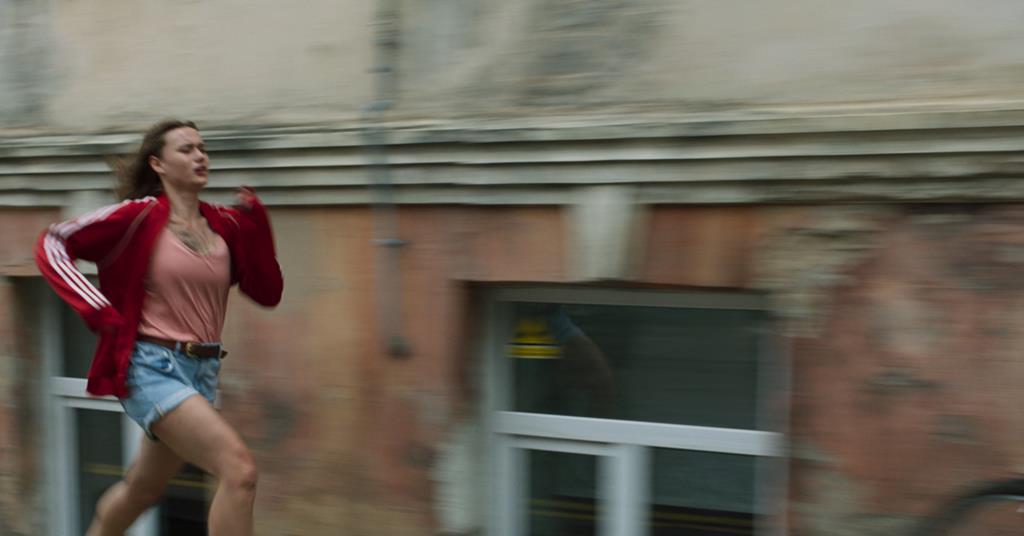 Director: Andrius Blazevicius. Lithuania 2021. 87 min.
Five years after his austere religion-themed debut The Saint, Lithuanian writer-director Andrius Blazevicius delivers a moving semi-sequel with the more propulsive good Runner. Built squarely around a punishing physical performance by Zygimante newcomer Elena Jakstaite – playing a stressed young woman frantically stalking her mentally unstable boyfriend on the streets of Vilnius – it's a kinetic and brutal experience that rewards resilient viewers.
Jakstaite's groundbreaking performance is sure to be rewarded
Premiered in the East of the West competition in Karlovy Vary, this tense and well-edited psychological drama is, for all its merits, just a viable theatrical proposition in the Baltic (and possibly neighboring Poland). Elsewhere, festivals are the logical showcase of an uncompromising spicy image whose edgy soundtrack deserves the full benefit of theatrical audio technology.
Jakstaite's groundbreaking performance as Marija is certainly the object of accolades, recalling the spectacular emergence of Jennifer Lawrence – whom the attractive performer, who also has a touch of Kate Winslet to her, casually looks like – in Debra Granik Winter bone. The action here is decidedly urban rather than rural, however, but once again the harassed protagonist is in a relentless pursuit of a beloved man. In this case, the "career" is the volatile lover of Marija, Vytas (Marius Repsys), a highly intelligent doctoral student who fled his shared apartment following an apparent psychotic episode (apparently involving physical assault on his partner. ), and that she tirelessly seeks with the help of various friends, relatives and strangers.
That this Vytas is the same Vytas who was the main character in The Saint is indicated by the presence of Indre Patkauskaite, again playing Jurate (his wife in the first film, his ex here), but otherwise there are no strong thematic or narrative links between the two images; Runner can be enjoyed by those who do not know its predecessor. At first, what looks like a Center / East retread of Course Lola Course – Marija's Nike running shoes, with their coral pink swoosh, certainly do more than their fair share of pavement hammering – gradually turning into intriguing, ambitious and ambiguous storytelling terrain.
Twenty-four eventful hours in a person's life are captured by cinematographer Narvydas Naujalis via portable large-screen images, then reduced to 87 minutes by editor Ieva Veiveryte. Having initially only seen and heard about Vytas and his "condition" from Marija's perspective, we slowly come to understand that there may be more than one character here with a mental illness. "Try to Focus on Happy" reads the lettering on one of her many tattoos, but the placement of the last word in a tight mesh of concentric lines makes body art more eerie than uplifting.
Does Marija really see an increasing number of soldiers around town? Could a friendly stray Rottweiler be the figment of his overheated imagination? The crushing pressure on the nerves of this 27-year-old worker – it is specified that she was born in 1990, the year of Lithuania's independence from the USSR – finds its viscerally disturbing analogy in the subtly modulated sound design of Martin Ozvold, Lukas Moudry and Krystof Blabla.
Their work is integrated in a simple and organic way with the minimalist but piercing score of Jakub Rataj (an auspicious first solo credit). The soundscape created by this quartet and the director brings to the fore jarring eruptions, most spectacular when a fast jogging military troop swarms in front of and around Marija as she walks on a quiet sidewalk, in the middle of a sudden cacophony of muffled boots.
Time and time again, the booming ringtone of Marija's ubiquitous smartphone is amplified for maximum annoyance; not since the Safdie brothers Uncut gems Has the protagonist of a movie been so haunted and harassed by his own wearable tech. (Marija repeatedly pushes pushy callers away with an abrupt "I can't talk to you now!") The pernicious influence of social media is another important recurring element in Blazevicuis' script, co-written with Marija and Tekle Kavtaradze , which – for sometimes monotonous and repetitive effect – stacks complication upon complication (romantic, psychological, bureaucratic) because it fortunately puts both the heroine and the audience in the wringer.
Production company: M-Films
International sales: alief, [email protected]
Producer: Marija Razgute
Screenplay: Andrius Blazevicius, Marija Kavtaradze, Tekle Kavtaradze
Production design: Aurimas Aksys
Editing: Ieva Veiveryte
Photography: Narvydas Naujalis
Music: Jakub Rataj
Main actors: Zygimante Elena Jakstaite, Vytautas Kaniusonis, Marius Repsys, Viktorija Kuodyte, Emilija Latenaite, Laima Akstinaite