The Light Roller – England finally become the team they wanted to be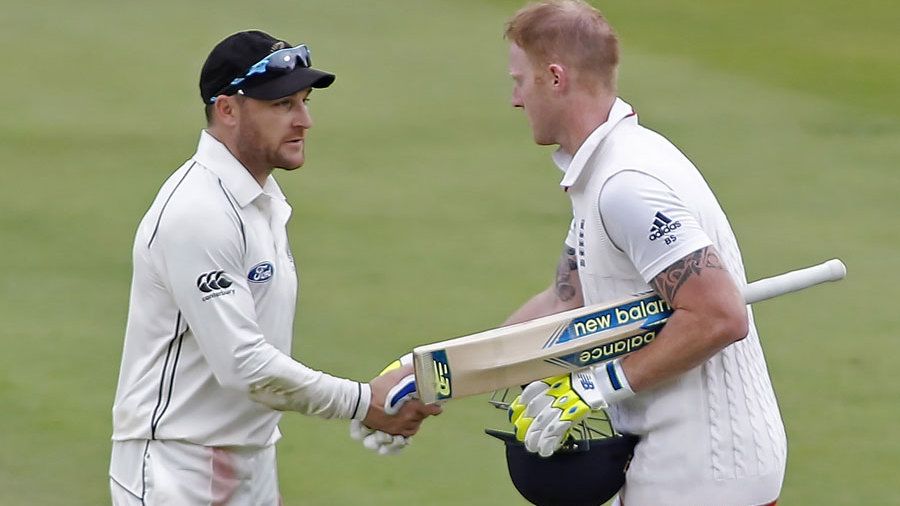 Who among us – with the possible exception of Brad Haddin – doesn't have a soft spot for New Zealand? The designated nice lads of world cricket, they've inspired a legion of devoted kiwi-lovers with their wholesome brand of understated efficiency, winning hearts and minds (and even the occasional trophy) along the way.
Currently, no one is looking more enviously in the direction of the Black Caps, silently articulating "I want to be you", than England. Not content with basing their one-day squads overhaul a few years ago on the tinkering group led by Brendon McCullum in New Zealand, they have now opted to bring in the scintillatingly wise T20 himself as their new coach of test. Really, has there ever been a more damning case of Stockholm Syndrome than the one inspired by England's 2015 World Cup battering at the Cake Tin?
With McCullum and the all-rounder (Christchurch born) Ben Stokes forming a totemic tattooed duo in charge of the Test side, England are seemingly intent on swinging, at the very least. Which most fans would probably agree is better than breaking into tears, as is increasingly the case. But what will life be like under the "Thriller Bees"? Let's look for clues.
positive cricket
One of McCullum's most memorable gambits was charging up to Mitchell Starc at the start of the World Cup final. Sure, he got his stumps splashed and New Zealand ended up beaten, but it's the principle that counts. Stokes has a similar mindset. Whether it's balls, bodies or locker rooms, both love to break it.
Team culture
McCullum took over as New Zealand captain following Ross Taylor's failed withdrawal, helping to heal a divided dressing room and rebuild the team from one of its lowest points in recent times. Stokes takes charge of England after one of the longest and most successful (technically speaking) captaincies in their history, and with the team still completely behind its predecessor, Joe Root. He has a hell of a job to do.
Play with a smile
A central philosophy of McCullum. Perhaps James Anderson will find it difficult to understand.
Tattoos
If in doubt, specify. McCullum has his international cap numbers on his shoulder; Stokes has them on his arm. McCullum has a silver fern on his chest; Stokes has one on his shoulder, plus a pride of lions on his back. Both have tributes to their wives and children among their body art. Expect to see Mark Wood get his imaginary horse tattooed on his buttocks, Jack Leach get 1* carved into his neck and Zak Crawley discover some Maori heritage.
So this is it. England's Test decline has been slow and painful, but now they'll live fast (or kill the format trying). It's time for the Barmy Army members to all step out to get "Baz Boys 4 Life" tattoos on one bicep.
Chennai Super Kings may have no chance of winning this year's IPL, but their fans have something even better to celebrate: MS Dhoni is back behind the wheel. Perhaps unsurprisingly, Ravindra Jadeja's brief stint in captaincy was an unfortunate affair – made all the more difficult, Light Roller suspects, by having the alpha "Dad's Army" lurking in the background. . "For the first two games, I just supervised his work and left it later," Dhoni said after being reappointed for the rest of the season. "After that, I insisted that he make his own decisions and take responsibility for them." Strong dominating paterfamilias vibes from Mahi there, like the father who reluctantly allows his son to try to be the map reader on a family walk. Now everyone is lost and, Dhoni adds regretfully, if we all die here, then we know whose fault it is. Still, character building stuff for young Jaddu.
More transformation lolz from South Africa, where ASC's attempts to remove Mark Boucher as head coach of the men's team following allegations of past racist behavior backfired. Never mind that the board was shocked – shocked! – to discover that the massive hiring of a group of white former players into managerial positions could provoke a response from those who believe that South African cricket is long overdue for a judgment on equality. CSA's efforts to address instances of discrimination raised during last year's social justice and nation-building hearings subsequently failed due to the unavailability of testimony. The intentions are clearly good. But it seems that before the CSA can make a meaningful dent in historic racial injustice, it will have to transform a reputation for historic administrative incompetence.