Vintage Tractor Enthusiast Prepares For Hungry Hollow | Free News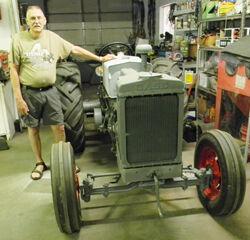 Dennis Stillwell, a resident of rural Cameron, a board member for the annual Hungry Hollow vintage tractor show north of Barron, is postponing surgery until he can attend the show in this year.
After a one-year absence due to COVID-19, the Hungry Hollow 2021 show will take place on Saturday and Sunday, June 26 and 27 at the club grounds on the corner of Wisconsin Hwy. 25 and 19th Avenue, five miles north of Barron.
Stillwell, a North Carolina native who has lived near Cameron since the mid-1970s, said he first became involved in tractor restoration about a dozen years ago.
"I started with garden tractors," Stillwell said on Monday, June 14, 2021. "I was interested in models from the 1960s and 70s. When I started showing them at Hungry Hollow, no one else did.
Stillwell said he was interested in the garden tractors of an uncle, Johnny Epley, whom he knew while growing up in Morganton, North Carolina, in the foothills of the Appalachians, about 80 miles south. northwest of Charlotte.
"I took agricultural lessons in high school, but they didn't really care about tractors," he added. "I took two eight-week mechanics courses in the military, but I never used (the skills he had learned). "
After joining the Hungry Hollow club, Stillwell got interested in bigger tractors. He has several on his property, including his favorites, three vintage Ford models from the 1950s.
But due to health concerns, Stillwell plans to sell at least two more tractors, a 1937 International Harvester and a Case Model C parked in his garage. He was in the process of restoring it last year when health issues emerged.
Stillwell said he plans to sell the case to someone who can finish restoring it.
Vietnam veteran, Stillwell met his wife, Linda, originally from Rice Lake, while she was a nurse in Fort Jackson, SC. They built their home near Cameron in the mid-1970s. He subsequently worked as a Wisconsin State Soldier in the Rice Lake Street Department and also worked as a Police Instructor for the Nations. United in Bosnia, Kosovo and Liberia.
The Stillwells have two grown children, one living in Appleton and the other in Shakopee, Minn.