Wonder Bees at Wearable Art Festival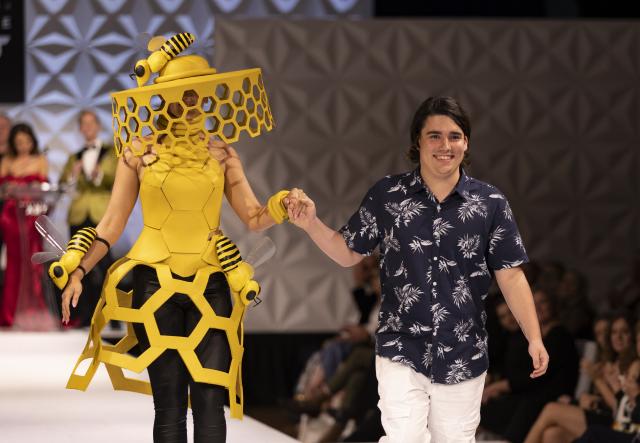 Margie Maccoll
18-year-old Noosa designer Teddy McRitchie walked the runway at the Australian Wearable Art Festival in Bokarina on May 21 to showcase his stunning Queen Bee project and accept the award for best helmet.
Teddy started designing wearable art when he was a high school student, enrolling them in the wearable art section of the Body Art Festival in Cooroy.
There his designs caught the eye of representatives of the Australian Wearable Art Festival and in 2019 his creation at the national festival won the best student award.
However, Covid has put a stop to festivals since then, with everything having been shut down for two years.
But this year the festival was able to continue again with around 35 entries from all over Australia, Singapore and the United States, although unfortunately others from South America and New Zealand did not attend. were unable to do so due to Covid issues.
"It was such an amazing event," Teddy said.
"There was an audience of around 1000 people attending two shows – day and night."
Teddy spent countless hours over a few months creating her piece, titled Queen Bee, inspired by bees – the decline of the bee population and the importance of bees around the world.
"I wanted to create a little awareness of the importance of bees," he said.
Her helmet was a creative take on a traditional beekeeper's veil with a honeycomb-shaped veil, topped with a gigantic bee.
"It's quite bright and eye-catching," he said.
The outfit was modeled by Georgie Phillips who wore the winning entry to the final wearable art festival in 2019.
"She was an amazing role model. I was so lucky to have her. There are always things that can go wrong, but she kept it all together and told the story of the artwork said Teddy.
Graduating from Year 12 last year with his senior years impacted by Covid, Teddy took a year off to "do things to feed my heart" and deepen his passion for design.
This month, he will travel to Tasmania for the Paper on Skin Wearable Art event to present his entry in the competition which takes up the challenge of designing a wearable garment made from at least 80% paper.
Also in the spotlight at the Australian Wearable Art Festival is former Gympie Arts Ambassador and Music Artist Seamstress Cindy Vogels, who was one of three judges at the event held last weekend on the Sunshine Coast.
Ms Vogels rose to international fame when pop music superstar Lady Gaga wore one of her hats in a duet with music legend Tony Bennett in 2014.
At the event, Ms. Vogels was put to work judging the national and international entries that paraded.
Other category winners include Haute Couture: Galina Mihaleva with Tectumque, Emerging Wearable artist: David Bongiorno, Supreme winner: Evita Camilleri and Dan Draper with Water Memory for the Arid Soul, Trashion: Denise Lamby with Warrior Princess, Sustainable Nature : Eloise Galea with Rhea Nova and Floriana : Karen Jones with Le Fleurs De Marie Antoinette.